Welcome to Boston School of Flower Design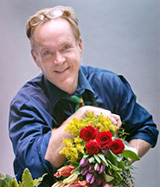 The Boston School of Flower Design,  a great place to master your skills and a great place to enjoy all of Boston. 
At the Boston School of Flower Design, founded by celebrity florist, Michael Gaffney, their students learn a large variety of different floral designs. Everything from traditional to contemporary design work is covered during the 1 week intensive course.  Boston School of Flower Design offers students top design instruction along with the best floral classes  in the country.   A gorgeous mix of fresh flower and green materials are provided to the students during each day's class (all materials, containers, tools & flowers are included with the tuition cost), as well as live demonstrations, flower market field trips, instructor assistance and best of all, hands on designing by the students themselves.
Located inside a Floral Wholesaler
Boston, home of the Celtics and the Bruins (who of course play in TD Garden) as well as the Red Socks and Boston area's many colleges and universities make it an international center of higher education. We're proud that the Boston School of Flower Design is joining that impressive list that includes Harvard, Massachusetts Institute of Technology, Boston College and Boston University.
Join us at the Boston School of Flower Design which is situated right in one of Boston's largest Flower Markets.
Michael Gaffney will be teaching his comprehensive course in Boston. It's 28 plus styles of design covering most of everything you see on a website or magazine. Michael's unique approach is been featured on many television shows including the Today Show and Hallmark Channel. He's excited to be in Boston the town that he visited many times over the years and is so excited to finally have a school there. Michael will  have you designing gorgeous flowers by the end of the week. It's the know, it's the why and the how you put a flower where it you place it. Please visit his YouTube videos at are very popular to see what the school is all about or visit www.flowerschool101.com or more information. Hello Boston!
Led by Michael Gaffney
Michael Gaffney who has been featured on the Hallmark Channel, Today Show and Huffington Post states, In my book Design Star, there are 100 tips to flower design, but in class there are 1000. Being in class and having that one-on-one access to an instructor is important to learning good design habits and techniques.  Classes in Boston are offered in the afternoon and evenings on Mondays and Wednesdays of each week during the semester. Space is limited and pre-registration is required. If you would like more information about classes and how to register, please call
Click Here to Read More Call Us: 414-617-7162
Teaching all styles of Flower Design: Classic American, English, Contemporary, Bridal.
Take classes in Flower Design at our Boston school or attend one of our many locations across the country